2019 13,5% Vol. 1500cl
CONFEZIONE REGALO
Fattoria Le Maestrelle gift box
Indicazione geografica Toscana IGT
Annata: 2019
Formato 1500cl
Grado alcolico 13,5% Vol.
CONFEZIONE REGALO
Fattoria Le Maestrelle gift box
CONFEZIONE REGALO
Fattoria Le Maestrelle gift box
Indicazione geografica Toscana IGT
Annata: 2019
Formato 1500cl
Grado alcolico 13,5% Vol.
Spedizione
Il Rosso
I sapori unici ed i piaceri del buon vivere
Il Clima
The 2018 season started off with mild temperatures and frequent precipitation that guaranteed excellent groundwater reserves.  The month of July brought sunny weather uninterrupted by extreme temperatures.  Occasional rain showers characterized the last half of August followed by September weather that was hot and sunny.
La Vinificazione
The grapes were picked at different times and fermented separately based on the individual grape variety.  This process allowed us to perform fermentation and maceration operations specifically for each grape variety to enhance aromatic compounds and extract soft tannins.  Fermentation temperatures never exceeded 25 °C (77 °F) and gentle pump-overs were performed. Malolactic fermentation was completed by the end of October and the wine was transferred in part into barriques and in part into stainless steel vats and left to age.  Santa Cristina Fattoria Le Maestrelle was bottled starting mid-October 2019.
Note degustative
Harvesting operations were right on schedule starting with Merlot and Syrah during the last half of September and continued with Sangiovese up until the beginning of October.
I premi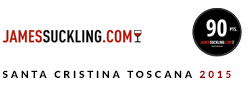 Scopri anche le Selezioni