Basically there are two types of wine: those to be tasted and those to be drunk. Santa Cristina 2014 belongs to the second category. There is nothing wrong with admitting that certain wines are "drinkable", fortunately for us. We are all too often entangled in enigmatic philosophical debates when faced with a bottle of wine, a mental process that often distances us from the most enjoyable and convivial aspect of wine.
The 2014 vintage has fought against the hardships of a difficult season. And it won. Santa Cristina's DNA is intact, Sangiovese masters freshness and character the small additions of Cabernet, Merlot and Syrah give the wine that depth and roundness you expect from a Tuscan red. Red fruit, aromatic and pleasant, graceful features of gentle tannins with hints of spices and balsamic herbs.
It is quite common to see tables of enthusiastic diners who uncork one bottle of Santa Cristina after another: proof that this simple, technically impeccable and extremely pleasant wine is a winner. When it comes to the issue of pairing, a whole new world opens up. The rule dictates that a wine should complement gastronomic preparations, or vice versa, so our wine should become our most trusted and versatile travelling companion, following our lead with experience and finesse and here Santa Cristina 2014 is our perfect partner.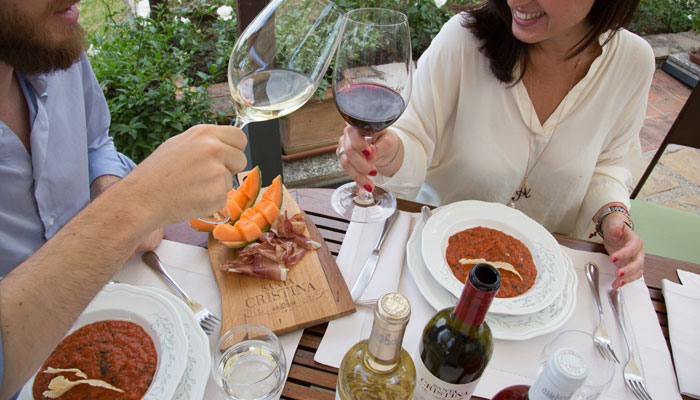 L'ho provato con uno dI tried it with one of the most traditional Mexican dishes, Chili con Carne, a dish that can make wine and food pairing fanatics weak in the knees. The combination of meat and beans and in particular the aromatic qualities of the combination of tomatoes, onions, cumin, spices and chili pepper give the dish extreme complexity from savory to spicy. Santa Cristina's acidity and balanced structure stand up well to chili and tame the palate, a gentle persuasion to continue our journey from Tuscany to Mexico and back.