There are masterpieces that owe their greatness to just a few simple ingredients. One of these specialties is called Biscotti di Prato, known worldwide as cantuccio or cantuccino. These cookies from Prato are one of the highest expressions of Tuscan cultural know how, a recipe carefully safeguarded in the city's historic memoires. The authentic Biscotto di Prato is easily recognizable by its intense almond flavor and crispness that are characteristic of freshly baked cookies.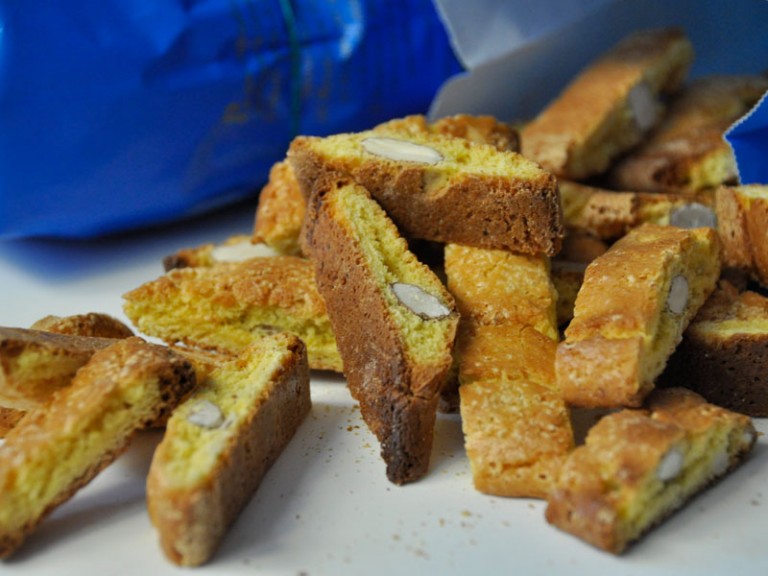 It all started in 1858 when Antonio Mattei opened his bakery in the heart of downtown Prato. Many things have changed since then; in the early 1900's the Pandolfini family took over the bakery business due to Grandfather Ernesto's legacy; he learned the trade from the Mattei family by working as an errand boy. The Pandolfini family has upheld the original recipe and product packaging now an iconic symbol representing the city of Prato worldwide.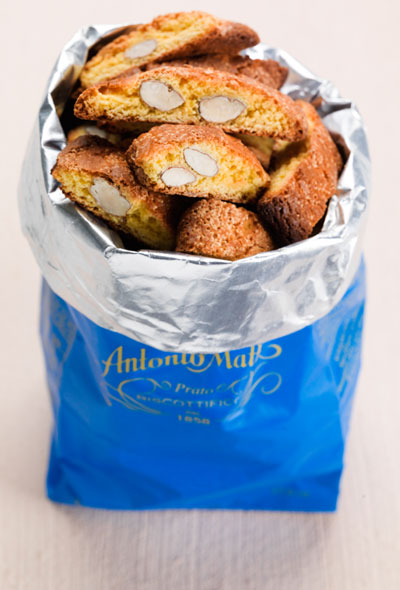 Wrapped in their signature Mattei-blue paper bags tied with green twine, these almond-flavored Biscotti di Prato are a part of Tuscany's traditional bakery specialties. There is no butter and no oil; the only ingredients are flour, sugar, almonds, eggs and pine nuts. These genuine ingredients are carefully selected and mixed together with the utmost care. The dough is shaped by hand into oval logs then placed in the oven on baking sheets. Once out of the oven the warm fragrant logs are sliced into their characteristic shape and packaged in their signature blue paper bags. Other delicious desserts can be purchased from "Mattonella's", the nickname that Prato's residents have given to Mattei's bakery: cantucci with dark chocolate, "biscotti della salute" (a kind of melba toast made with butter in its original recipe) but also available in their whole wheat and sugar free versions.
Mattei's Bakery has been a member of the Association of Historic Italian
Businesses since 2015, an organization that unites companies that have achieved international prominence and prestige. Fifty member companies all share cultural, social and human values that are the basis of their production and business philosophies and represent their historical heritage.
Now to the most controversial question: to dunk or not to dunk in Vinsanto?
Here the world is divided into two schools of thought; Vinsanto traditionalists are absolutely convinced that this almond cookie overpowers Vinsanto's noble aromas of honey, hazelnut, dried fruit and chestnut flour, on the other hand we have those who enjoy joining the two in holy matrimony, convinced that the uniting of two good things can only result in an even better and unforgettable experience. Which school of thought do you belong to? When in doubt, we take the liberty of recommending a trial "dunking" session in our Vinsanto from the Valdichiana DOC region.
Keep in touch with us as we will soon have a new passion to share with you.
PROFILE BISCOTTIFICIO MATTEI
Via Ricasoli 20 – 59100 Prato – Italia
+39 0574 25756
info@antoniomattei.it
OPENING HOURS:
Monday: closed
Tuesday thru Friday: 8:00 a.m. to 7:30 p.m.
Saturday: 8:00 a.m. to 1:00 p.m. and 3:30 p.m. to 7:30 p.m.
Sunday: 8:00 a.m. to 1:00 p.m.
HOLIDAY OPENING HOURS:
Open on the second Sunday of each month also in the afternoon. On holidays and every day in December we are open in the morning.
We will be closed on Sundays during the month of July, from January 1st through 4th, May 1st and three weeks in August.
BUSINESS OFFICE
Via Ricasoli 18 – 59100 Prato – Italia
+39 0574 25756
ITALIA
commerciale@antoniomattei.it
EXPORT
export@antoniomattei.it
BUSINESS HOURS:
Monday thru Friday from 8:30 a.m. to 5:00 p.m.