The 23rd of April 1946, the momentous day on which the first patent was filed for one of the most famous Italian icons in the world.  From its debut, this vehicle became a status symbol.  We are talking about the Vespa scooter. Just mentioning the word Vespa automatically brings to mind its legendary logo. We'll leave it to sociologists to figure out why the Vespa became a cult brand while we look at one certainty:  the Vespa was born from a passion, a stubborn one if you like, yet a passion that has impacted thousands of Vespa riders throughout the world.
Enrico Piaggio had been working on a project to produce a motor scooter for several years, but the results were disappointing. The Vespa's forerunner was a model called MP5 "Paperino" (meaning Donald Duck) which was not successful. Enrico Piaggio, convinced that the idea was a good one but well aware of the fact that it needed to be further developed, handed the job over to Corradino D'Ascanio, his mission was to create something really original. Unfortunately Mr. D'Ascanio was an aeronautical engineer and did not like motorcycles. Enrico Piaggio's persistence proved to be brilliant: Engineer D'Ascanio designed a comfortable and practical scooter according to Piaggio's guidelines. The motorcycle's fork is similar to a light aircraft's landing gear; the frame, now in lightweight sheet metal protects the two-stroke engine and is assembled directly on top of the rear wheel; the steering column became a sort of shield to protect the rider's legs that rest comfortably on the scooter's floorboards. A revolutionary new design completely different from other two-wheeled vehicles of that time.
This is where the Vespa's genius lies; its familiar shape was designed from scratch, or better yet designed by taking a motorcycle apart, a revolutionary concept.
In four short years, one hundred and thirty thousand Vespas were manufactured, a brief but intense pace. Seventy years later the world's enthusiasm and passion about the Vespa have remain unchanged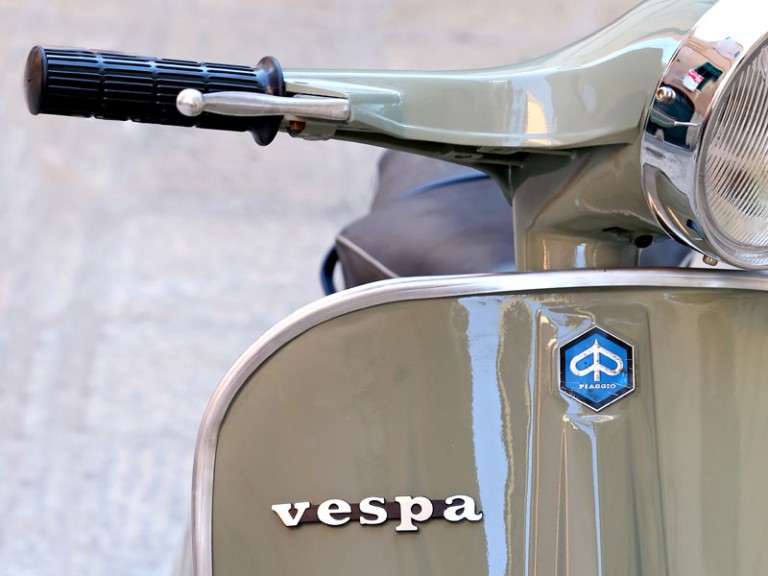 What started this revolution? Vespa not only radically changed our perception of two wheeled vehicles, it became a form of communication; passing along to Vespa riders and enthusiasts the passion with which it was made.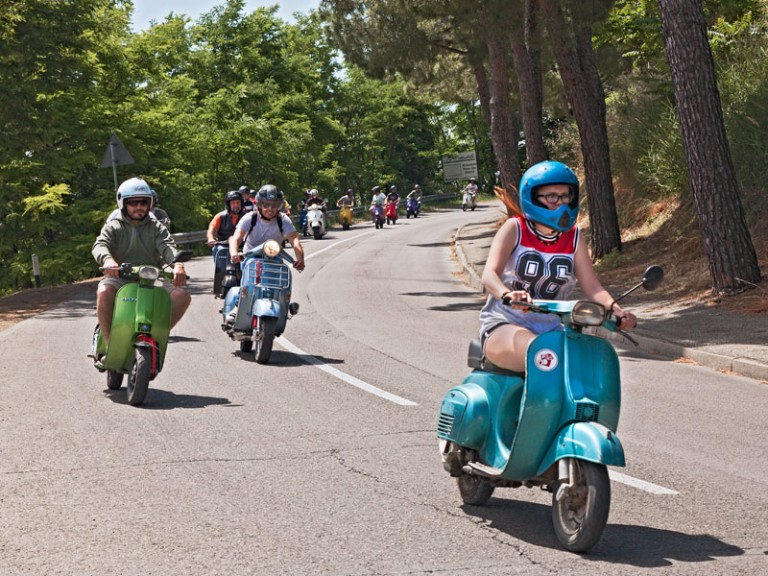 Vespa drivers do not just buy a means of transportation; they are passionate about and loyal to their two-wheeled companions. They identify themselves by the Vespa they ride, it tells us who they are and how they live. "It's impossible not to fall in love with one: they're fast, practical for city driving, comfortable and romantic for day trips in the country and, for those who love a challenge, can make a more demanding road trip a thrill" says Luca, a Vespa fanatic who has travelled all the way to Scotland by himself, or to be precise, together with his Vespa.
Is there a reason to celebrate? Yes indeed. Vespa Clubs have already organized an international rally in order to celebrate the 70th birthday of their crown jewel.
Even the Piaggio Museum, located in Pontedera, is preparing an important exhibition dedicated to the star of the Piaggio collection: On the Road with the Vespa, a 70-Year Adventure.
"The Piaggio Foundation celebrates the 70th anniversary of the Vespa by dedicating an important exhibition to one of the most intriguing and evocative aspects of the history of the world's best-selling scooter, whose devotees have grown constantly since it made its debut: Travel." They invite all enthusiasts, including amateurs, to participate by telling their story.
Best wishes for a happy birthday to a major contributor to Italian history during the past 70 years. Our most sincere wish is that all great passions always lead to even great accomplishments.
Cheers!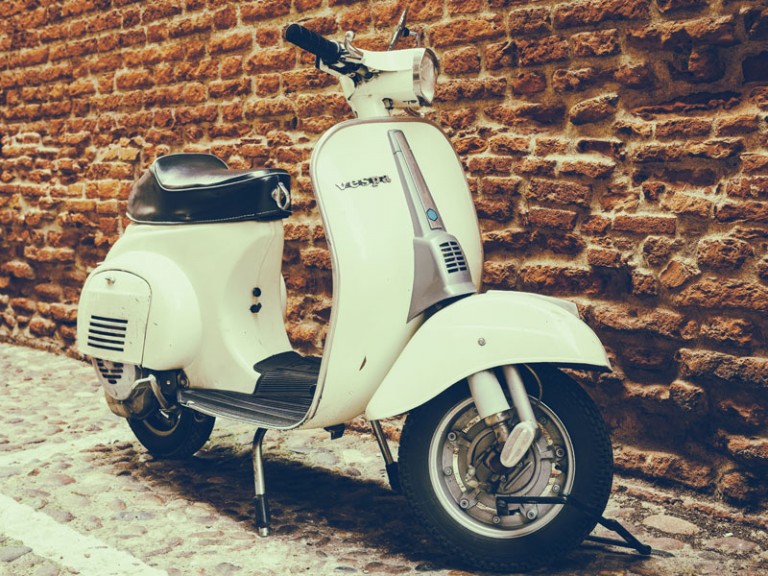 The Piaggio Museum is located in Pontedera in the heart of north-west Tuscany just 15 minutes away from Pisa.
Viale Rinaldo Piaggio, 7
Pontedera (Pisa)
Open Tuesday thru Friday from 10:00 a.m. to 6:00 p.m.
Saturday from 10:00 a.m. to 1:00 p.m. and from 2:00 p.m. to 6:00 p.m.
The second and fourth Sunday of every month open from 10:00 a.m. to 6:00 p.m.